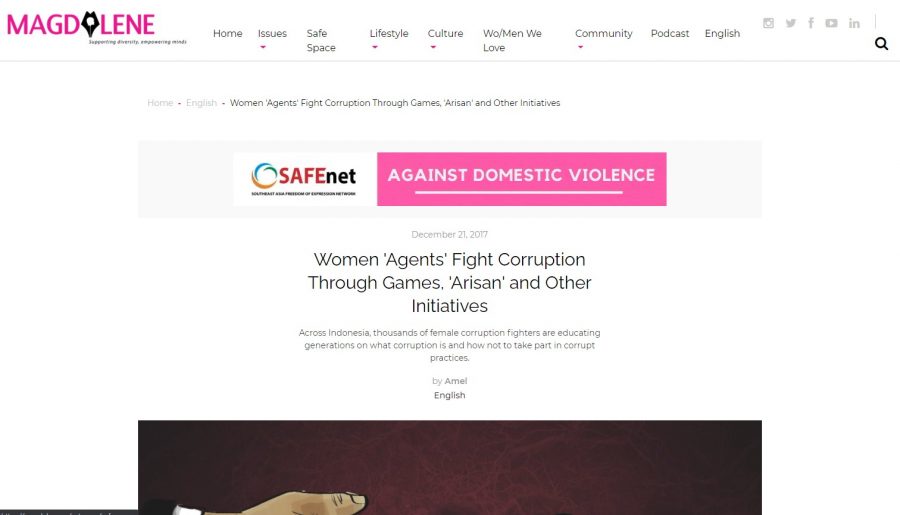 Women 'Agents' Fight Corruption Through Games, 'Arisan' and Other Initiatives
Ending massive corruption in Indonesia requires shifting the culture and changing perception of what graft is across generations. This is the central objective of Saya Perempuan Antikorupsi (I am an Anti-Corruption Woman), a nationwide grassroots movement initiated by the Corruption Eradication Commission (KPK) and Australia Indonesia Partnership For Justice (AIPJ).
Using informal methods like games or community gathering, SPAK has reached over a million people since it was established in April 2014. It is now present in 34 provinces in Indonesia with over 1,300 "agents" who deliver their messages in schools, universities, government offices, entrepreneurs, organizations as well as communities. These agents are made up of women from various backgrounds, from law enforcers, journalists, teachers, housewives, and including people with disabilities.
The focus is on character building and the key message emphasizes on honesty.
"A research conducted by KPK in 2013 in Solo and Jogjakarta, found that only 4 percent of parents teach honesty to their children," said Ela Persia, one of SPAK's agents from Madura during one of the panel discussions at the 5th Urban Social Forum last weekend in Bandung, West Java.
"What we mean by honesty is not theoretical honesty, but rather how honesty is practiced in everyday life," she added.
Women play a central role in providing moral education to children and families, said policewoman Adj. Comr. Dwi Astuti, who is a member of SPAK in Yogyakarta. They are also more likely to be socially engaged in their communities than men. In addition, not only are women usually more involved in child rearing, they also often set the family's budget. In many families the men are not even trusted with ATM cards, Dwi said.
Selengkapnya baca di https://magdalene.co/story/women-agents-fight-corruption-through-games-arisan-and-other-initiatives